J. Joksimovic and Fabrizi opened the exhibition "Applied Nostalgia"
07. December 2017. | Belgrade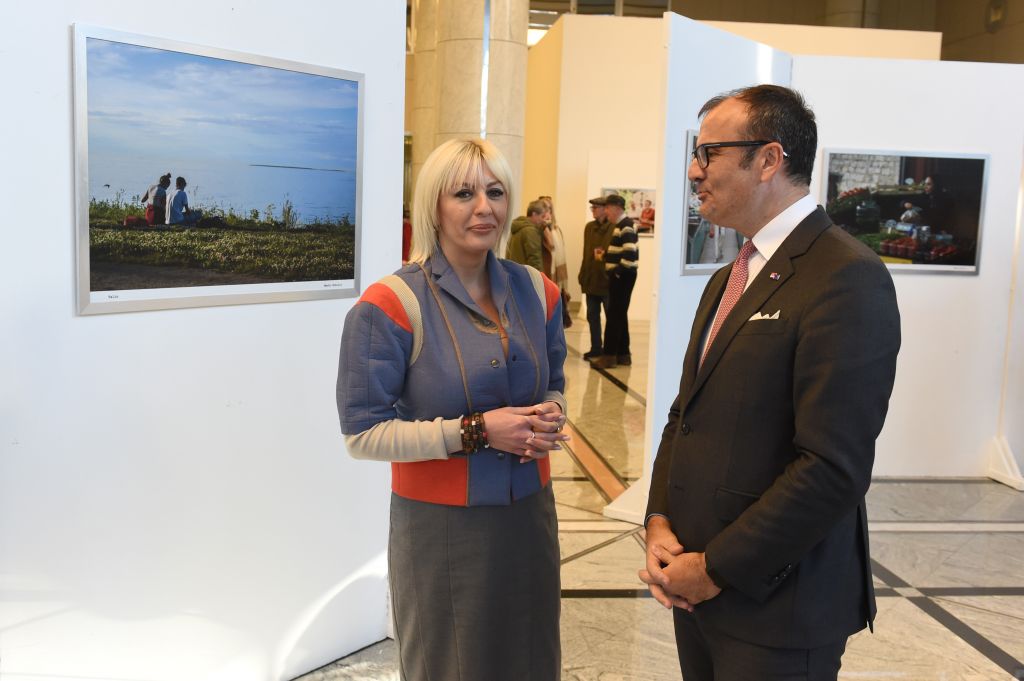 The exhibition "Applied Nostalgia" was opened today at the Gallery of the National Bank of Serbia, featuring photographs of Belgrade and Tallinn, the capital of Estonia, the country holding the EU presidency until the end of the year.
The exhibition, which was opened today by Minister of European Integration Jadranka Joksimović and Head of the EU Delegation to Serbia Sem Fabrizi, marks the end of Estonia's six-month EU presidency.
Opening the exhibition, Minister Joksimović said that the authors did a good and beautiful job.
"I visited Tallinn several times and there are indeed parts of that city that resemble Belgrade, especially New Belgrade. You will enjoy this exhibition," stated the minister.
She thanked the ambassadors from the Netherlands, Slovakia, Portugal, Poland and representatives of other embassies who came to the opening of the exhibition.
She also expressed her appreciation to Estonia, which, as she said, during its six-month EU presidency, was a fair partner, although it did not have the topic of enlargement on its agenda.
Ambassador Fabrizi pointed out that whenever a person from Belgrade visited any city in Europe, they could recognise a piece of their home.
"Such cultural connections send a message that people from Serbia can feel at home throughout Europe," Fabrizi said.
The exhibition includes photographs by Serbian author Marko Nikolić and photographer from Estonia, Rait Tuulas, and it is a part of the project "Applied Nostalgia", which has been going on for a decade and which was conceived as a series of joint exhibitions of two photographers, one from Serbia and one from the country holding the EU presidency.
This promotes cultural cooperation between the countries, promotes Serbia in the EU and the country holding the EU presidency, as well as European ideas, values ​​and cooperation with the EU member states.
Serbian photographer Marko Nikolić stayed in Tallinn in July this year, where he photographed places, events and people reminding him of Belgrade.
At the end of June, Estonian author Rait Tuulas visited Belgrade and photographed the city and its inhabitants through the objective of a "nostalgic" photographer.
The exhibition is open until 19 December, on working days from 10 am to 6 pm.
Source: Tanjug