J. Joksimović and Aigner: Austria will continue to strongly support the EU path of Serbia
November 28 2017 | Belgrade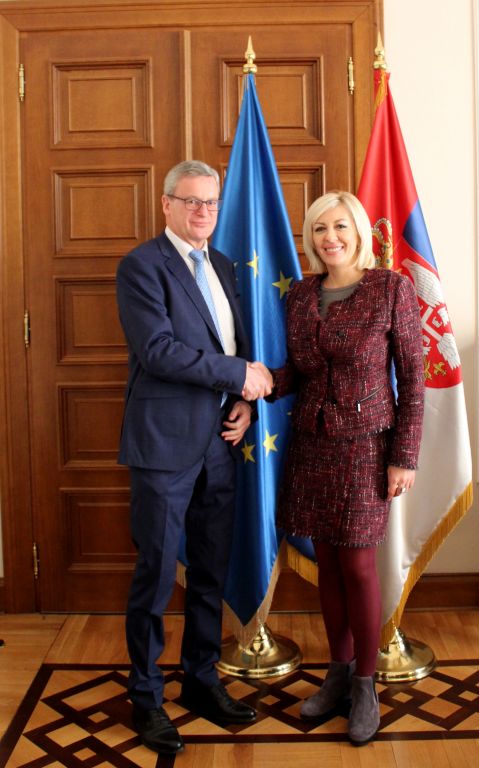 Minister of European Integration Jadranka Joksimović has received the Austrian Ambassador Johannes Aigner in a farewell visit, who told her that Vienna strongly supported the strategic interest of Serbia to become an EU member. They discussed bilateral relations and further cooperation between the two countries, European integration of Serbia, reforms being implemented in the accession process and other important topics.
Jadranka Joksimović and Johannes Aigner both assessed that the two countries' bilateral relations were at a high level and pointed out that this was evidenced by the fact that Austria represented the biggest investor into the Serbian economy. They also noted that there was room for intensifying overall cooperation.
The Minister of European Integration expressed her appreciation for the assistance, support and experience that Austria had provided to the European integration process of Serbia. Joksimović expressed her expectations that Serbia would open new chapters at the next Intergovernmental Conference in mid-December.
"Austria strongly supports the clear pro-European commitment and strategic interest of Serbia to become a member of the EU", stated Ambassador Aigner. Convinced that Vienna will provide maximum assistance to Belgrade in the further course of the accession process, he stressed that Serbia − as regards European integration, was on the right path.
Minister Joksimović thanked Ambassador Aigner for his efforts and endeavours to strengthen relations and intensify cooperation between Serbia and Austria. She wished him much success in his future life and work.
(Source: Tanjug)