J. Joksimović: The EU should have the same standards for everyone
24. November 2017. | Belgrade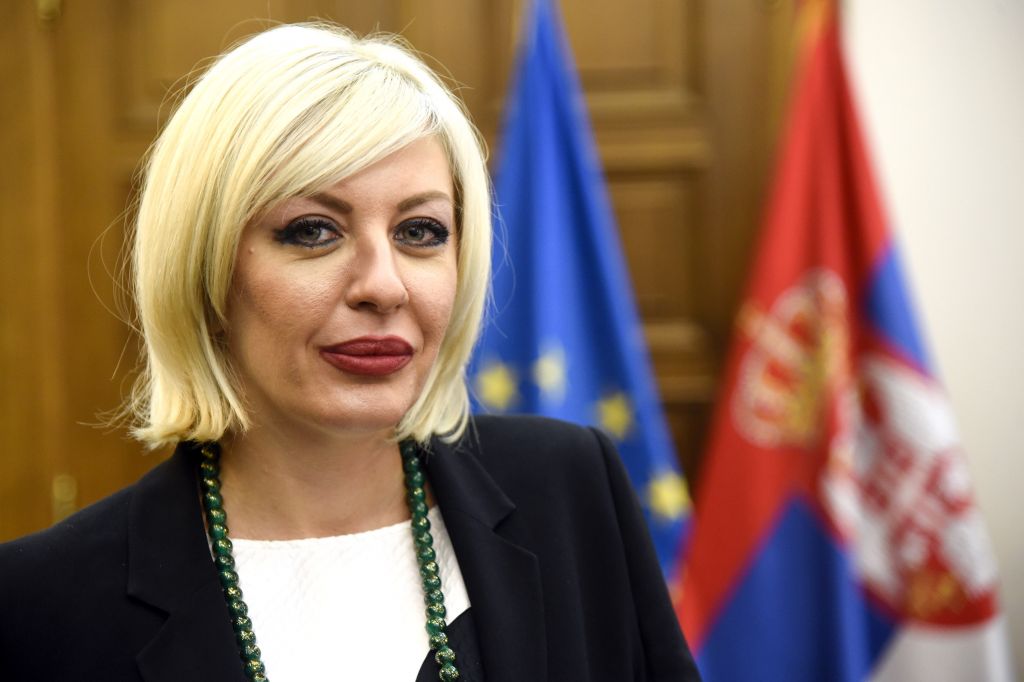 When I met Jadranka Joksimović in 2012, on the eve of the second round of presidential elections, she did not resemble a conventional politician. Bold, quick, with strong makeup, colourful outfit and blonde hair, she came to the editorial office and brought a sealed envelope with money. She was the only one, aside from Vučić, that had the courage to bet on Tomislav Nikolić winning against the then unmatched leader Boris Tadić. This fanatical commitment to the ideas she advocates is not the only link between her and the current president of the state. Joksimović is celebrating her 40th birthday next year, and has long since moved from the editorial staff of the Serbian Radical Party newspaper Velika Srbija to the position of the Minister of European Integration. Like Vučić, she grew up in New Belgrade and was one of the best students of the Faculty of Political Sciences attending the International Relations Studies. Due to this mix of unconventional and academical that she carried within herself, she is regarded as a person whose opinion is especially appreciated by her political party's leader. Although lately, due to the bureaucratic nature of the work she performs, she often speaks in a measured manner using a lot of vain Brussels formulations, everyone who knows her knows well that she is a no-nonsense person. She is one of the very few from the lines of the Serbian Progressive Party who do not fear Zorana Mihajlović's scorn about "some members of the SPP who are unable to restrain their inner Šеšеlj", but who have sharp public response to them. That is why we begin the conversation in her office with this story and a question on whether she also says everything to Vučić's face or she keeps silent about something after all?
- Come on, just listen to the words you are using − "sharp response", "fear". We are not a kindergarten, but the Government of the Republic of Serbia. I always express my views, even when they are not a part of the opinion of the majority, since that is democracy. And I have known Vučić for a long time − sometimes I completely agree with him, other times we take totally different positions. He does not run away from a different opinion, which is a very important and rare trait in a leader. I only keep silent when I know that he would get very upset while he has to face important obligations.
What do you have to say about the double standards of Brussels, i.e. keeping silent on the Ustasha outbursts in Croatia, as well as on the statements of the Bosniak member of the BiH Presidency, Bakir Izetbegović?
- I am very open in talks with our European partners, both from European institutions and from EU Member States. Shy critique, indulging and justification will not help anyone, because we understand that one who is regarded as the most advanced and the greatest has the obligation to show greater open-mindedness. And that is fine, but one should not exaggerate. It is like when you have a particularly strenuous job, and then you say to your associate: Look, you are the smartest and the most capable, and nobody will do this better than you. And that is okay sometimes, but if you are overdoing it, the associate will realise that you are using them, while the others will get too lazy to tackle the toughest of tasks. The EU must show the same standards for everyone in order to maintain its credibility. As far as Croatia is concerned, the problem is that the entire political establishment, the leftists, the centrists and the rightists, all have an almost identical position which hinders the improvement of relations, so we are constantly running in circles of provocations and reactions. And since they are an EU Memebr State, I expect them to show greater responsibility. As for Izetbegović's statement, it is a very problematic statement from several aspects, which brings discomfort and questions the sincerity of the policy of good neighbourly relations. This is a statement which you cannot just pretend not to have heard. I think the EU does understand this, although it is not always loud enough.
What happened last week at the meetings in Brussels? It appears to have been turbulent, especially for Haradinaj.
- First of all, it would be good to clarify what kind of meetings these were. The meetings held by High Representative Mogherini last week were the meetings on monitoring the implementation of the Stabilisation and Association Agreement with those who have signed the so-called SAA. This is, in fact, a contractual relationship defining a number of areas that are important for a country which is in the process of accession. Due to the format of the meetings, it is important to clarify that Serbia is already far in the process of accession, i.e. it has opened negotiations on chapters. While for Haradinaj this is the biggest event for the so-called Kosovo and their association (the SAA meeting), for us it is just a usual annual format at the ministerial level, where all areas of the SAA are considered, where possible issues in implementation are analysed and where political negotiations are held. That was what I did, as Serbia's chief negotiator in the negotiations with the EU, and that is a political function.
If the meeting was held at the ministerial level, how come Prime Minister Ana Brnabić was there?
- That is exactly why I suggested that our Prime Minister should not go. Not because of my vanity or caprice, but because I believe that a clear distinction must be made between Serbia and the so-called Kosovo. High Representative Mogherini's estimate that it was a good political moment for her agenda that SAC be attended at the prime minister level, so that her Western Balkans agenda would gain importance, has proven to be a mistake, as you can see. There was no need for her to introduce a political levelling into the process of European integration of the Western Balkans, because, in doing so, you are bound to unfairly underestimate some, while counter-productively overestimating others. This is why the outcome is what it is. The format is not just an empty form − it is defined to reflect the purpose of the negotiations and to establish proper differentiation of competences and tasks.
At that meeting, Haradinaj found it appropriate to ask for the USA to additionally join the dialogue between Belgrade and Pristina, and for "the two countries to recognise each other" at the end of the dialogue, after which Mogherini simply left the room...
- As far as I have witnessed, everyone tried to deny that there had been a conflict and a bad atmosphere. However, there was no joint press conference, which is indicative. If the reason given is correct, then it means that Mogherini and the EU have overestimated the sincerity of Kosovo's political leaders, and that Kosovo's politicians, on the other hand, have underestimated the EU. The awareness of true intentions is beneficial in international politics, because you can then redefine or at least revise the agenda a bit. Provided that there is political open-mindedness and courage to step out of a bureaucratised and inert approach, which would rather not change anything except make us a bit angry.
How did the meeting between Brnabić and Mogherini go?
- As far as our SAA meeting is concerned, I have heard that Mogherini said at the press conference that Serbia's "extremely good" progress was recognised, so I expect that there is no doubt that by the end of the year we will open all the chapters for which we are ready. That is all right, and I'm glad that this has been heard.
Hypothetically speaking, would Serbia, in case of greater involvement of the USA in the dialogue, seek Russia's engagement in Brussels?
- Well, in that case, we would also be acting in the same manner as the immature political team from Pristina. I do not understand at all why we would seek to involve the USA and Russia directly into the dialogue between Belgrade and Pristina. It is known that the USA has politically supported and continues to support Kosovo's independence, and that Russia has politically supported and continues to support our position on this issue and does not recognise Kosovo as an independent state. There are many countries that support the independence, but there is also a great number of those that do not, and some have even withdrawn their support to Kosovo's independence (Suriname, Guinea-Bissau). So why is there such a provincial desire to involve the USA and Russia into all relations in the so-called region, and to show that everything revolves around us? We would thus send a signal that we are neither mature nor sincere, and that we do not believe in the EU and its leadership capacities. Vučić is a responsible and mature politician, and he understands that the influence and presence of the EU, even when it appears that it is not on our side, is the most benign and strategically most fruitful.
Which negotiating chapters are to be opened by the end of the year?
- For a long time, our negotiating positions for Chapter 6 − Company law, Chapter 30 − External relations, and Chapter 33 − Financial and budgetary provisions have been on the agenda of COELA (Working Party on Enlargement consisting of representatives of Member States), since these chapters already have a large number of consents by Member States. We have also recently submitted the negotiating positions for Chapter 9 − Financial Services and Chapter 13 − Fisheries. So let me clarify − in addition to concrete matters in individual chapters, the Member States are also waiting to see the report, in this case in the form of a non-paper, on the progress achieved in key chapters of the rule of law − 23 and 24, which are suspensive chapters, because if no significant progress is observed in these chapters, the consent for opening technical chapters, for which we are ready, may be denied. Last week, the non-paper prepared by the EC was submitted to the Member States, and will soon be formally presented to us, but based on our knowledge so far, it should be good enough to bring us to the opening of new chapters. Having in mind all the procedures, as well as some developments in certain Member States, I realistically expect three chapters, while an optimistic approach would be to say that we will open four. That would be fair, but not everything in this part depends on us.
Why is this important for Serbia?
- The opening of the chapters is, at this stage, the most tangible proof that we are working on reforms and that we are making progress in European integration. It is therefore extremely important for us to open as many chapters on which the people throughout the Government and numerous institutions are working on daily basis, in consultation with civil and expert organisations.
Is it realistic for Serbia to become a full-fledged member before 2025, as was announced by Jean-Claude Juncker?
- I was thrilled with EC President Juncker because with his statement, in which he expressed confidence in Serbia, he sent a message showing that the European Union still had leadership capacities, and that it considered Serbia to be a part of its current potential and future leadership capacities. Do not forget that Juncker was criticised when he said that there would be no enlargement during his mandate, i.e. during a period of five years, but he was right. And now he is being criticised by some people from the EU and some other countries for his statement on Serbia and Montenegro as frontrunners, and about Serbia in the EU before 2025, but I believe that he is right again. Juncker is a true European politician from a generation which is well aware that the EU's Peace and Development Project is unprecedented.
What kind of "legally binding document" will Serbia have to sign in the end? What exactly does this mean?
- The negotiating framework for Serbia defined the obligation of signing a legally binding document on the overall normalisation of relations. Hence, this is not something that has now been invented, imposed or prepared by someone. However, at the moment there is no clearly defined content of this document, otherwise why would the dialogue between Belgrade and Pristina be held? What is the purpose of discussions, of dialogue and, conditionally speaking, of negotiations, if you know the outcome in advance? The Brussels Agreement and all the arrangements and agreements that should be implemented by our and by Pristina's side are the result of political dialogue between Belgrade and Pristina. Hence, the content of a legally binding document on the overall normalisation of relations will also arise from the dialogue. And it has been slowed down and quite discredited by Pristina's failure to act on their most important obligation, i.e. the establishment of the Community of Serb Municipalities. Therefore, and having in mind the internal dialogue which has been initiated maturely and prudently by President Vučić, we have demonstrated a realistic approach, where it is clear that we have to seek some relatively sustainable solutions.
Has the internal dialogue been launched in order to speed up the European integration?
- To tell you the truth, I am particularly annoyed when someone says that this is done under anyone's pressure, especially for the purpose of European integration. Let all those who say this to themselves and to the public answer the following question: Okay, for example, we have decided not to join the EU − does that mean that we should not further resolve the problem of Kosovo, should we pretend that it does not exist? I do have strictly defined and, perhaps even rigid attitudes towards what an unsuccessful and incomplete self-proclaimed state such as Kosovo represents now and perhaps even in the future. However, this does not entitle a responsible politician, intellectual, and citizen to ignore the problem and to not seek solutions which are laest harmful for our interests. After all, if you are just an observer of the event, the only thing you can do is criticise the participants and observe the outcome which you have not even attempted to influence. We want to influence the outcome and the content of this document, and therefore we remain active in the process of the dialogue. This is our interest.
It is known that we will have to change the Constitution at least twice during the accession negotiations. Will we include some political changes as part of the changes in the section on judiciary? It has been said that the preamble will be changed, but also the political and electoral system.
- As a politician, but also a politicologist, I do not even understand such a pro et contra debate about amendment of the Constitution. Society changes, spirit of the times changes, political systems also change. The Constitution is not a religious dogma, and even the history of religion records this happening. Of course, in the process of European integration we need to make some changes regarding the election of judges and prosecutors, which would increase the efficiency, independence and autonomy of the judiciary. This is, I presume, in the interest of all of us living in Serbia. I have no idea why the change of the preamble is constantly placed as a hidden motive for the amendment of the Constitution. There are opinions that some other changes in the Constitution are necessary, which concern neither the preamble nor the judiciary. That is why it isn't and it mustn't be anyone's individual political decision, but a participatory process involving expert, scientific, political and civil organisations.
Will there be a referendum on this occasion?
- In case of a more comprehensive change of constitutional provisions, it would certainly be good to hold a referendum. In case of partial changes - there would be no need for one. But given the procedure for amendment of the Constitution, which calls for a qualified, i.e. a two-thirds majority in the parliament, it would be difficult to opt for partially targeted changes without opening a political debate on the Constitution, as a whole. Therefore, a good assessment of political relations in society is important.
PERCEPTION IS CHANGING, BUT THE EU IS THE PATH OF OUR DEVELOPMENT
Has anything changed in citizens' perception, but also in the standard of living, since Serbia opened the first chapter in the negotiations with the EU?
- Perception is variable and deceptive. Sometimes we are personally satisfied hence everything seems better, but sometimes, from the perspective of our own problems, we do not perceive the progress happening on a wider scale. And it's human and quite normal. That is why constant small steps are important, because nobody brought a big, positive change overnight, or at least such a change didn't last long. The European path is the path of our domestic, political, as well as regional and local development. We use the EU pre-accession funds and development assistance to boost local and regional development, to learn that the local self-government does not have to ask for money from the budget for everything, because it is easier that way, but that it can learn to draft and prepare projects eligible for EU funding. Our students travel and study, we are improving the conditions for investors, both domestic and foreign, we are reforming the administration. We have stabilised our public finances, so the standard of living will gradually, but constantly, improve. All of this is the European standard that we are striving to.
When will we feel tangible results?
- Those that are most slow in making a promise are the most faithful in the performance of it. We work every day on steps that our citizens would feel as progress. Nowadays, Serbia is respected in Europe and the world, we are recognised as a nation that had the strength to recover from a politically and economically collapsed state into a true and serious one.
ELECTIONS ARE NOT NECESSARILY A BAD SOLUTION
Do we really need the early parliamentary elections in the spring of 2018? Did You support such a proposal at the SPP meeting?
- Well, the decision has been made. I acknowledged the arguments and the assessment of the party's president Vučić, aware that even he was not completely sure which reason should prevail. I believe that the criticism of too frequent elections is unfounded, because it is better for the elections to be an easily exercisable right for everyone than an extorted solution.
Is there a new Government reconstruction ahead of us, since we are accustomed to it following the absence of elections?
- I do not think so. I just do not understand why the public discourse of Serbia treats early elections, reconstructions and internal debates as automatic triggers for instability and crisis? On the contrary − this shows the stability of pluralism and political market.
Source: Ekspres