Georgia appreciates the experience of Serbia on the European path
14. November 2017. | Belgrade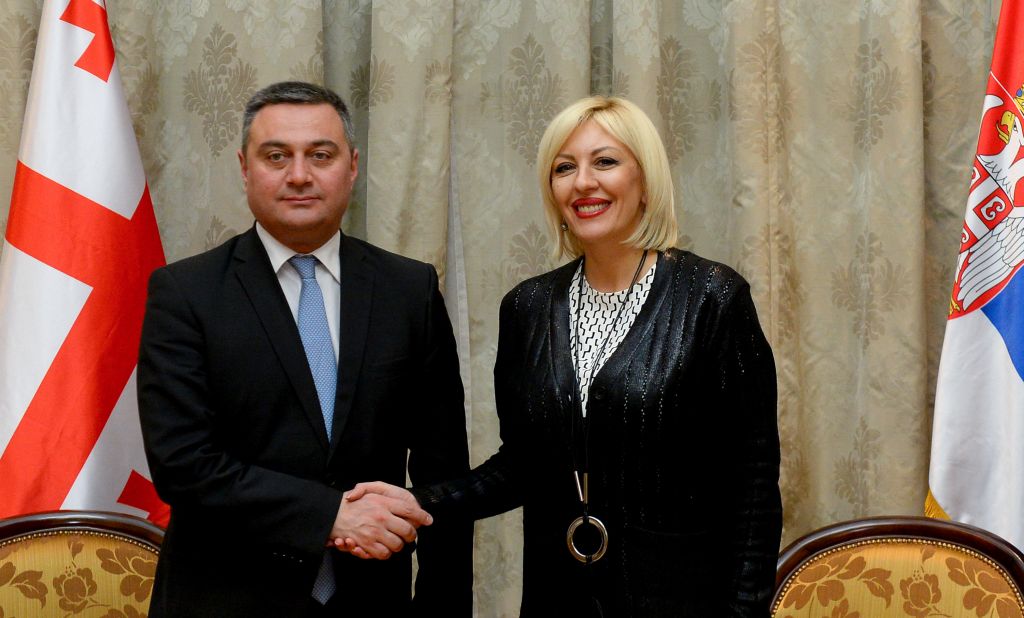 "Georgia wishes to make use of Serbia's experience in the European integration process", State Minister of Georgia for European and Euro-Atlantic Integration Victor Dolidze said today, while Minister of European Integration Jadranka Joksimović estimated that this was an acknowledgement of Serbia's previous efforts on the European path.
The two colleagues talked today in Belgrade about the exchange of experiences, mutual respect of territorial integrity and improvement of bilateral cooperation.
Minister Joksimović thanked Dolidze for Georgia's non-recognition of the independent Kosovo, adding that Serbia shared such position as regards the territorial sovereignty of Georgia.
She said that the abolishment of visas between the two countries was underway, not only for the diplomats, but also for the citizens.
"There is an initiative to abolish visas and I believe that it will soon be implemented, not only for the holders of diplomatic passports, but also for the citizens of the two countries. We have already made some steps in that direction," Joksimović said.
Georgia and Serbia have a lot in common, the difference being that Georgia, in addition to the European integration, also seeks the Euro-Atlantic integration. However, Joksimović noted that it did not represent an obstacle to the development of further relations.
"I repeat − we are neither in Euro-Atlantic nor in Eurasian integrations, but in the European integration; still, this is a matter of decision of sovereign states and it does not constitute a problem − on the contrary, I think that the experiences are in any case welcome.
She announced that Serbia, which had both technical and political experiences in European integration, would gladly share these experiences with its Georgian partners.
"As one of the most serious candidates for EU membership, Serbia has experiences that it wants to share with Georgia with pleasure and good intent. It is a country that is a part of the EU's Neighbourhood Policy and the so-called Eastern Partnership, recognized as one of the leading countries and, I dare say, the leading one in this process," she said.
Minister Joksimović recalled that the Eastern Partnership, within the Neighbourhood Policy of the EU, had taken a more differentiated approach to individual countries (Azerbaijan, Georgia, Moldova, Belarus, Armenia and Ukraine) with time, and she stated that it wouldn't be bad if the EU would extend such approach to Western Balkan countries, where there were also significant political, economic and other differences.
She said that such an individual approach would be welcome, with respect and promotion of regional cooperation.
Talking about the exchange of experiences, Joksimović recalled that Serbia had also learned from others, and that it had been pragmatic because it had not picked experts by countries - the only important thing was that their experiences were the best, she said.
"Overall, I think that there are many reasons to work more intensively with Georgia. We expect the continuation of our bilateral cooperation through European integration as well," the Minister pointed out.
Dolidze told the reporters that he had had very concrete talks with Minister Joksimović, adding that his country appreciated the experiences of Serbia in the process of European integration.
"Your experiences and expertise will be very useful to us, especially for the screening process and bilateral and multilateral negotiations. In the future, we will also focus on the experiences of Serbia regarding the migration process," he said.
Stating that Serbia and Georgia were similar countries focused on prosperity and strengthening of democracy, Dolidze invited Minister Jadranka Joksimović to visit Georgia, and added that today they put the emphasis on sovereignty and territorial integrity, in accordance with the international law and agreements, including those signed under the auspices of the UN and the OSCE.
Source: Tanjug