J. Joksimović and O. Cadic: Clear support to EU process and reforms
02. November 2017. | Belgrade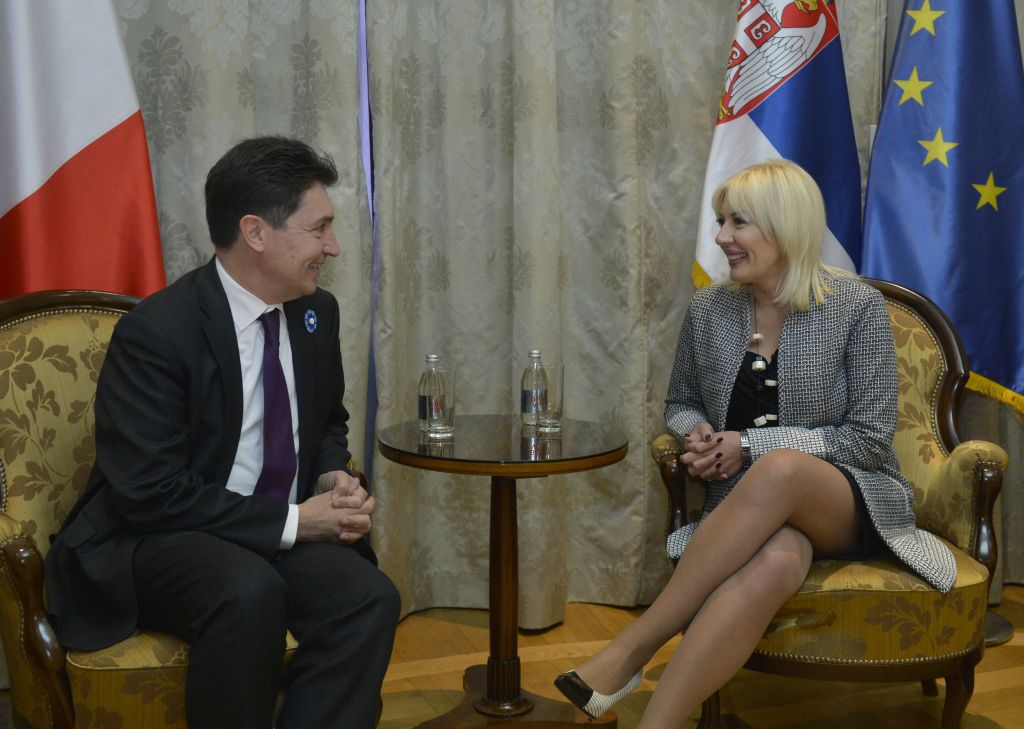 Minister of European Integration Jadranka Joksimović has met today with Senator and member of the Foreign Affairs, Defence and Armed Forces Committee of the Senate of France Olivier Cadic. They discussed the cooperation of the two countries, the strengthening of bilateral relations, the process of Serbia's accession to the European Union, reforms being implemented, cooperation in the region and other topics.
The Minister of European Integration thanked Olivier Cadic for the assistance and support Serbia had received from France on its path to EU membership. She stressed that Serbia would remain a reliable and credible partner of the European Union and that it would actively participate in resolving all the problems it faced, primarily those concerning terrorism and the migrant crisis.
Jadranka Joksimović stressed that EU membership was a strategic interest of Serbia and that European integration was the best mechanism for its overall development. She also pointed out that Serbia advocated the principle according to which individual results of each candidate country affected the speed of accession to the European Union.
The Minister of European Integration stated that, for Serbia, cooperation was the key condition for the stability, peace, development and progress of the region. However, Minister Joksimović pointed to the need for others to accept such principles and to confirm such commitments through concrete actions.
Senator and member of the Foreign Affairs, Defence and Armed Forces Committee Olivier Cadic said that, for Paris, Serbia was an important factor in the stability of the region. He estimated that Serbia had clearly shown its pro-European orientation, and expressed a positive attitude towards the results of the reforms being implemented, which France would support. Cadic reiterated the support to Serbia's European integration process that, according to him, would have a positive impact on the region, which was in the interest of the European Union.
Minister Joksimović and Senator Cadic agreed that the relations of the two countries were good and that there was room for their strengthening at all levels.
(source: Tanjug)