Ministry of European Integration for the first time at the International Belgrade Book Fair
20. October 2017. | Belgrade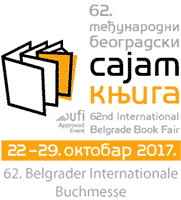 The Ministry of European Integration of the Government of the Republic of Serbia (MEI) will, for the first time at the International Belgrade Book Fair from 22−29 October 2017, present new editions of publications that have been prepared in order to provide the expert community and wider public with a number of topics relevant to for the process of Serbia's accession to the European Union. In the accompanying programme of the largest regional event dedicated to the book, organised in Belgrade for the 62nd time, Minister of European Integration Jadranka Joksimović will talk about the new publication of MEI Arguments for Europe that aims to present, in a comprehensible way, the benefits that the citizens of Serbia will have from the country's membership in the EU.
From Sunday, 22 October, MEI will organise six thematic days in order to present the most important activities in the process of European integration of Serbia to the visitors, i.e. everything that the Government of Serbia and other actors in this process are doing in order to reform the state and society, according to a model that is the goal of all citizens of Serbia − life in a more regulated country and society modelled after other European countries. At the MEI stand, information will first be provided about the publication Linguistic Guidelines published for the purposes of the preparation of the Serbian version of the EU acquis, intended for translators and revisers. In the following days, digital publications will be presented, primarily the new e-training available on the MEI website, dedicated to the EU Sector Policies. The ensuing topics will be the EU development aid to Serbia, IPA funds and Negotiation Chapter 22 on EU cohesion policy, as well as the publications of MEI on these issues. Furthermore, during one of the fair days, visitors will have the opportunity to learn about EU Cross-Border and Transnational Co-operation Programmes, i.e. printed material containing information on the most important projects and benefits for a large number of citizens in local communities.
In particular, during the School Day − the thematic part of the fair dedicated to youth, MEI is organising a reading rehearsal of the new theatre play prepared by the DADOV theatre company and non-governmental organisation Epomena, which deals with the issue of high school students and how they see the European Union. In addition, a collection of student works on the EU published in this year's MEI competition for the best academic work on the EU will be promoted.