J. Joksimović: There is no development without good education
27. September 2017. | Brussels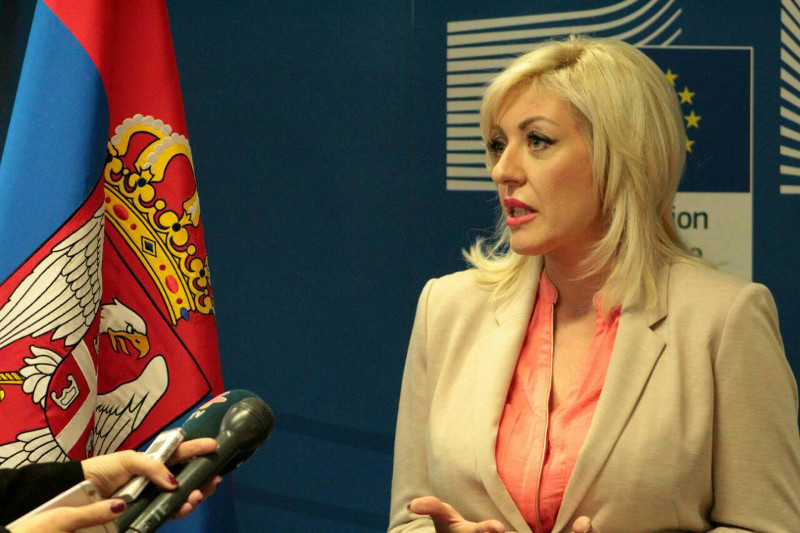 Minister of European Integration Jadranka Joksimović has emphasised today in Brussels that there is no development without good education, and that the overall economic and social progress of a country depends on well-educated people and an education system that is linked to the labour market.

After the signing of the Agreement on EU support to Serbian education system, Joksimović said that Serbia and EU wished to stop the economic migration and outflow of young people from the country, which, according to her, was a consequence of the situation where Serbian system creates an excess of certain education profiles who cannot find work on the labour market in Serbia afterwards.

"We have received EUR 27.5 million for programmes that will help teachers to adapt curricula to the needs of the labour market, so that we can have high quality and relevant education, which is in line with our Strategy for Education Development in Serbia 2020," the Minister pointed out.

Joksimović stressed that the funds received from the EU were being directed to the right sector, which shows that the EU and Serbia are true partners on the path of Serbia's development.

"I think it is clear that our young people want more education, more opportunities to travel, and opportunities to find a job. We need to give our young people a new opportunity, and real opportunity is created by just, comprehensive and efficient education," Joksimović concluded after the signing of the Agreement on EU support to Serbian education system.

The Agreement on EU support to Serbian education system has been signed today in Brussels by DG NEAR Director for Western Balkans Genoveva Ruiz Calavera and Assistant Minister of European Integration Branko Budimir, in the presence of Minister Jadranka Joksimović and Commissioner Johannes Hahn.
This is the first such agreement that the EU has signed with a Western Balkan country.
Source: Tanjug