J. Joksimović and Ossowski: Positive trend of political and economic cooperation
21. September 2017. | Belgrade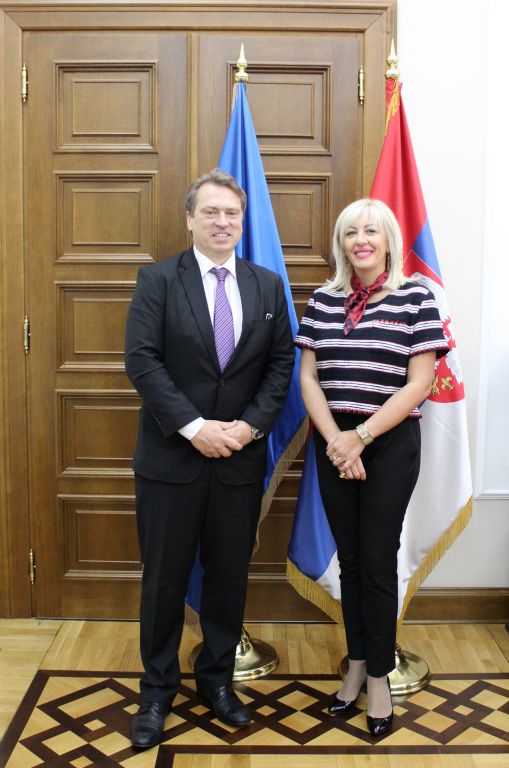 Minister of European Integration Jadranka Joksimović has met with Envoy of the German Federal Foreign Office Thomas Ossowski. They talked about relations between the two countries, the process of European integration of Serbia, reforms being implemented, the situation in the region and other important topics.
Minister Joksimović expressed her gratitude for the assistance and support that Germany has provided to Serbia in the process of EU accession. She especially emphasised that Germany was Serbia's largest bilateral donor − namely, that it had allocated EUR 1.7 billion in grants in the previous 15 years intended for the implementation of numerous projects.
Furthermore, Jadranka Joksimović introduced Thomas Ossowski with activities related to the accession negotiations with the EU. She expressed her expectations that, in addition to 10 chapters opened thus far - two of which had been provisionally closed, Serbia would open at least another three chapters by the end of the year: Chapter 6 − Company law, Chapter 30 − External relations and Chapter 33 − Financial and budgetary provisions. She assessed that the current pace of the opening of chapters was satisfactory and expressed her hope that it would be maintained in the upcoming period.
The Minister stressed that EU membership was a strategic orientation of the state. She stated that Serbia paid special attention to Chapters 23 and 24, concerning the rule of law, and that the state was aware of the importance these chapters and the progress achieved within them had for the opening of other chapters. Joksimović said that the state was an advocate of the principle whereby the evaluation of individual results in the process of European integration was considered the most important criterion for progress in the accession process.
Ossowski reiterated Germany's support to Serbia's European integration, expressing his belief that it contributed to the stability and development of Serbia and the region, which was certainly in the interest of the European Union. He further said that, in Germany, Serbia was perceived as a vital country for the stability and prosperity of the entire region, as well as for the achievement of common European interests.
Jadranka Joksimović reaffirmed Serbia's commitment to regional stability and cooperation, with clear expectations that others in the region would demonstrate responsibility and not only declarative commitment to stability and good relations. In that sense, the two officials agreed that it was essential that the dialogue between Belgrade and Pristina continued, with the obligation for both sides to fulfil what has been agreed upon.
Joksimović and Ossowski noted that the relations between Serbia and Germany were outstanding, that regular communication - established at all levels, gave results, and that there was a constant trend of improvement as regards overall cooperation, primarily in the political and economic spheres.