Joksimović and Hershey: UN Development Agenda 2030 aligned with EU integration
23. August 2017. | Belgrade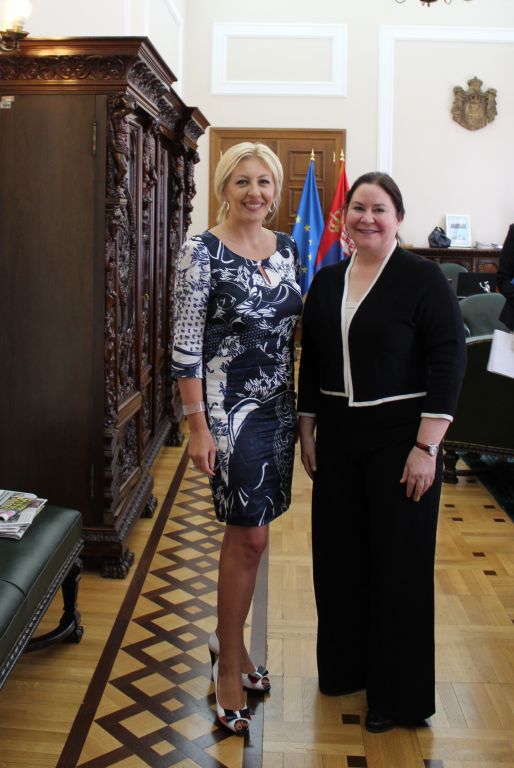 Minister of European Integration Jadranka Joksimović has met with Resident Coordinator of the United Nations in Serbia Carla Robin Hershey. They have discussed the activities of Serbia during the pre-accession negotiations on EU membership, implementation of reforms and UN agencies' assistance arrangements for our country - especially in the areas of importance for the EU accession process.
Minister of European Integration has estimated that there is a need for improving the cooperation with the UN agencies for the purpose of intensifying the economic and social development of the country. Joksimović and Hershey have indicated the importance of strengthening coordination and partnership in implementing reforms and the EU integration process.
Resident Coordinator of the United Nations in Serbia Robin Hershey has stated that our country has all agencies of the UN at its disposal for any type of assistance and support in implementing national strategies, in particular in the context of achieving UN sustainable development goals by 2030, and the continuation of the EU accession process. She has commended the results of the reforms being implemented along the path towards the EU membership and stated that the establishment of the Ministry of European Integration is a clear and obvious indicator of Serbian pro-European commitment.
The goal is that UN supported projects be aligned with the reforms that are being implemented within the EU negotiations process, specifically within negotiating chapters.
Joksimović and Hershey have agreed that improved coordination of various financial resources and funds is required for UN and EU projects concerning the public administration reform, public financial management, environment and other.