Joksimović and Frattini agree Serbia deserves to be part of EU
01. August 2017. | Belgrade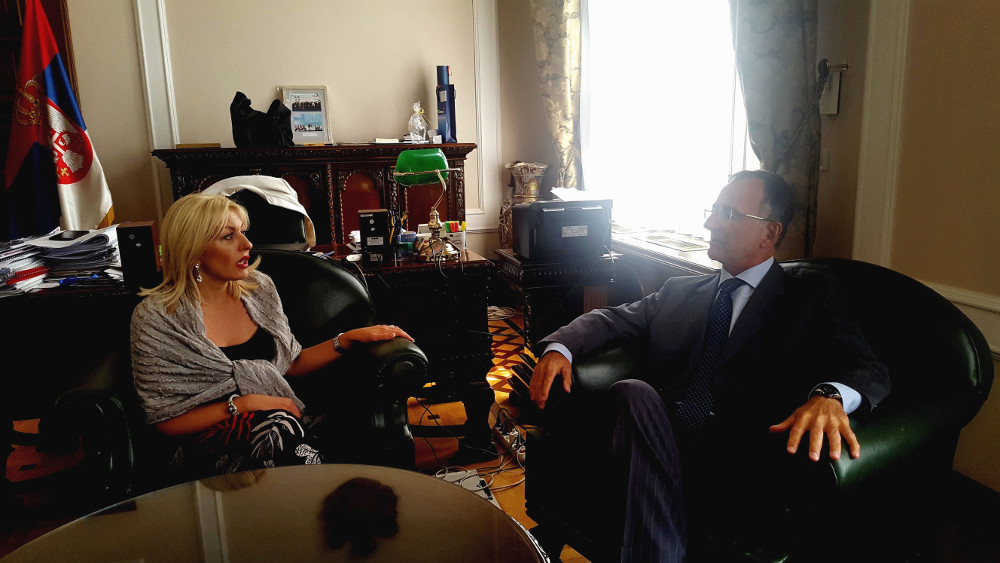 Minister of European Integration Jadranka Joksimović has spoken today with President of the Italian Society for International Organisations Franco Frattini on the relationship between Serbia and the EU, the process of its accession to the European Union, the reforms that are being implemented, the situation in the region and other important topics.

Joksimović said that, in the current stage of negotiations with the Union, Serbia had opened ten chapters, two of which had been provisionally closed. She further expressed her expectation that three more chapters that we would have prepared would be opened by the end of the year, in particular chapters 6, 30 and 33, on company law, external relations, and financial and budgetary provisions, respectively.

The Minister pointed out that establishing and ensuring stability in the region, as a prerequisite for its development and progress, was one of Serbia's priorities. As she explained, stability can only be achieved if everyone cooperated, whereas it was necessary that others show their commitment through related activities. Joksimović and Frattini estimated that, supporting Serbia's position, the European Union should send a clear message that the stability of the region was not only significant for this part of Europe, but also for the EU itself.

President of the Italian Society for International Organisations Franco Frattini said that the reforms being implemented in Serbia had given tangible results and that they served the development of the economy - primarily through new investments and stable macroeconomic environment. He commended the Serbian Government's firm commitment to be a constructive partner of the European Union, which, according to him, had been proven many a time. Frattini noted that, on numerous occasions, Serbia had proven it deserved to become a member of the European Union, and promised he would in every way help it on its European path.