Municipalities and cities are main drivers of change in European integration process
05. July 2017. |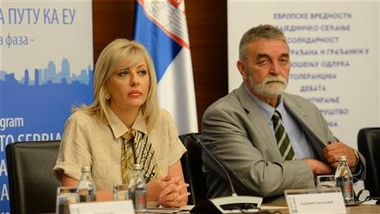 Minister of European Integration in the Government of the Republic of Serbia Jadranka Joksimović, has said today that, from 2016 to 2020, Serbia can expect EUR 1 billion in grants from the European Union for the reform process.
At the Support to Local Self-Governments in Serbia on the Road to the EU meeting, Joksimović stressed that not only high political issues were important for European integration, but also relevant programmes, contribution to development, support to innovations and preparation for a better future of Serbia in the EU.
At the same time, she stressed that, despite all its problems, the European Union remained the best place to live.
Joksimović indicated that municipalities and cities would be the main drivers of change, pointing out that 60 to 70 percent of regulations and European standards to be reached were related to local self-governments.
According to her, the Republic of Serbia makes good use of its candidate status, which is a good stage to be used to improve standards, as well as for internal development and state modernisation.
"It is important that we fully benefit from the advantages of the candidate status in order to be prepared when the membership comes", said Joksimović, adding that using the period leading up to Serbia's ultimate goal in the best way possible was more important than the membership itself.
She noted that some countries had become part of the European family without being fully prepared, so that they could not even feel all the benefits of the membership, adding that local self-governments could help along the path of reforms set before Serbia.
Joksimović recalled that, with the opening of chapters − ten of which had already been opened − Serbia was showing that it had, to some extent, achieved standards in a certain area.
"Reforms, progress and the development of society are key words", said the Minister, announcing that the Ministry of European Integration would deal with the development and use of funds, with Serbia having EUR 200 million available from the IPA funds annually.
In terms of other funds, she listed programmes such as Horizon 2020, Competitiveness Programme for Small and Medium Enterprises, Employment and Social Innovation Programme, Creative Europe, Europe for Citizens, European Health Programme, Customs Programme 2020 and others.
Among the priorities, Joksimović highlighted the adoption of the Development Strategy, adding that the ministry headed by her was absolutely ready to participate in the drafting of this document.
She also expressed her hope that, by the end of the year, Serbia would open several more chapters in the negotiations with the EU, specifying that Serbia was ready to open Chapter 6 (Company law), Chapter 33 (Financial and budgetary provisions) and Chapter 30 (External relations).