Financial agreement (IPA 2016) worth EUR 96,2 million signed by Minister Joksimović and Commissioner Hahn in Brussels
07. June 2017. | Brussels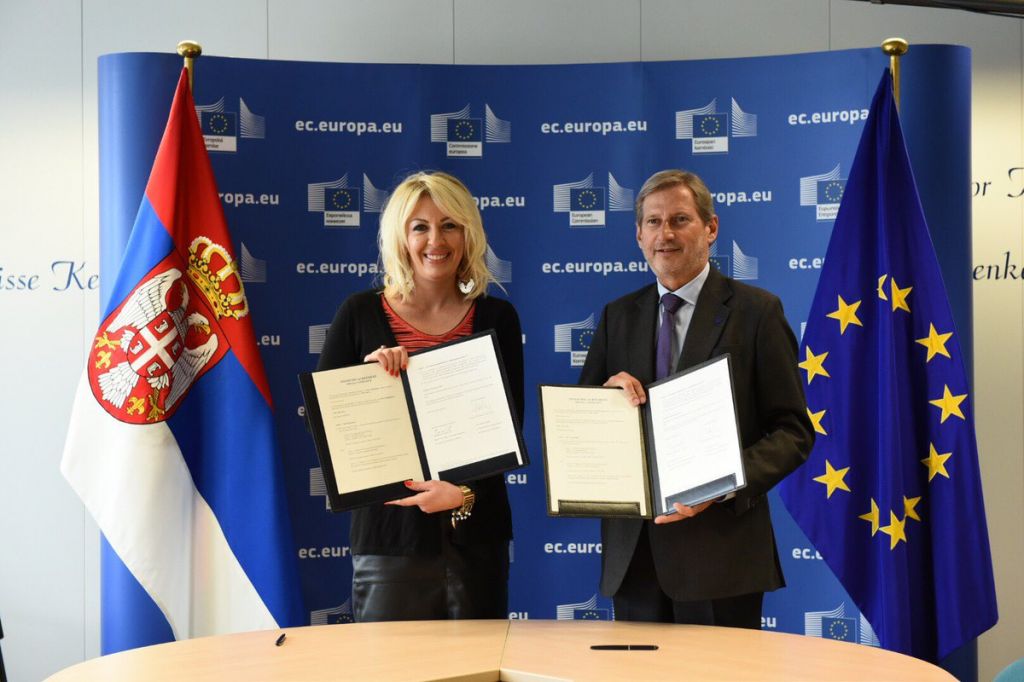 The Serbian Government Minister in charge of European Integrations, Jadranka Joksimović and European Commissioner for European Neighbourhood Policy and Enlargement Negotiations, Johannes Hahn, signed today in Brussels the Financial agreement worth EUR 96,2 million, of which the EU financial support is in amount of EUR 95.1 million. This agreement is first of four financial agreements that are going to be signed in this year with the aim of realization of the annual IPA program for 2016 with the total amount of EUR 166.4 million.
The grant will be used for project that will assist Serbia in implementation of reforms in key sectors, focusing on: stimulating competition in Serbia and support to small and medium enterprises in Serbia; Stimulation of competitiveness of economy and support to small and medium enterprises; improvement of infrastructure for ensuring better access to public buildings for persons with disabilities and reduced mobility; continued works on Golubac fortress reconstruction and promotion of efficiency of judicial institutions. This agreement will also support the activities in the areas relevant for the realisation of rights of internally displaced persons, refugees and returnees, but also in the fields of food safety, veterinary and phytosanitary policy, statistics, transport, environment and energy.
Later in the year, another three financial agreements are to be signed, the funds wherefrom will be allocated to promotion of border management system (28 million euro) and reform of education sector (27.4 million euro). The last out of four agreements will be funded by the EU in the amount of 15.9 million euro and it will, among other, ensure the participation in other EU programmes.
With more than three billion euro of grants invested in Serbia in the past 15 years, the European Union is the largest donor in Serbia, but also the first partner of the country considering the support to development and ongoing reforms.