Europe Day celebrated this year in Belgrade and Zrenjanin
10. May 2017. | Zrenjanin, Belgrade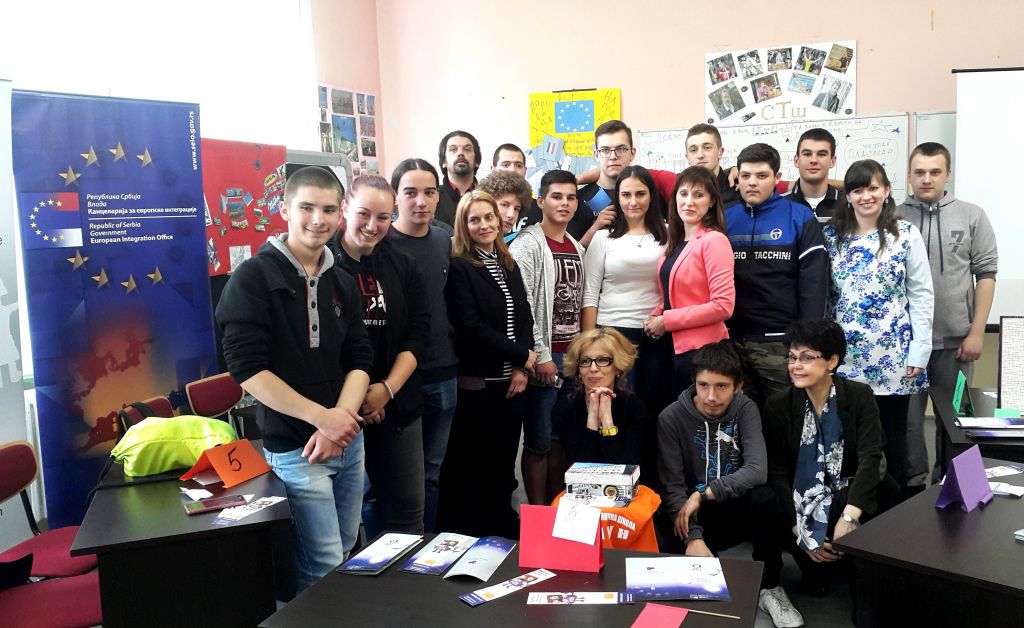 This year, the European Integration Office of the Government of the Republic of Serbia celebrated 9 May, Europe Day, by organising numerous activities in Belgrade and Zrenjanin. Today, at the public class dedicated to the European Union, held at the initiative of SEIO, the students of the Traffic Technical High School from Zemun have presented what they know about Europe, its history, culture, traditions, have participated in knowledge quiz and won theatre tickets, school supplies, tickets for interactive board games and other appropriate gifts.
The representatives of the European Integration Office have also visited the Technical School GSP, Railway Technical School and the School of Electrical Engineering "Nikola Tesla", where classes discussing Serbia and the European Union have been organized. Together with their teachers, the students had the opportunity to discuss about what the process of European integration entails and how our country can contribute to the European family of nations.
On the occasion of Europe Day, during the previous week, on 5 May, SEIO joined the town of Zrenjanin and the European Union Delegation in the celebration of "the European Village" manifestation, which was attended by children from 27 elementary schools from Zrenjanin, Tomaševac, Orlovat, Perlez and the surrounding area.
The event was opened by Jadranka Joksimović, Minister in charge of European integration, Oscar Benedict, Deputy Head of the EU Delegation to Serbia, and Čedomir Janjić, Mayor of Zrenjanin.
Minister Joksimović used this occasion to congratulate the schools, and stressed that "the European Village" is a good opportunity for the children of Zrenjanin to learn a lot about the EU, and also for their guests from EU embassies to get better acquainted with Serbia.
"Serbia is historically and culturally a very significant part of Europe, and in every respect belongs to the European continent," Joksimović said, stressing that the EU was created as an organization that has brought peace and stability after the Second World War, and that it became, and will remain for a long time, the best place to live and work, and that this is why Serbia is on its European path. SEIO has presented all 27 schools that have participated in the organization of "the European Village" with valuable gifts − book sets for school libraries.