J. Joksimović and Kefalogianni: Friendship and strategic partnership between Serbia and Greece
October 16 2019 | Belgrade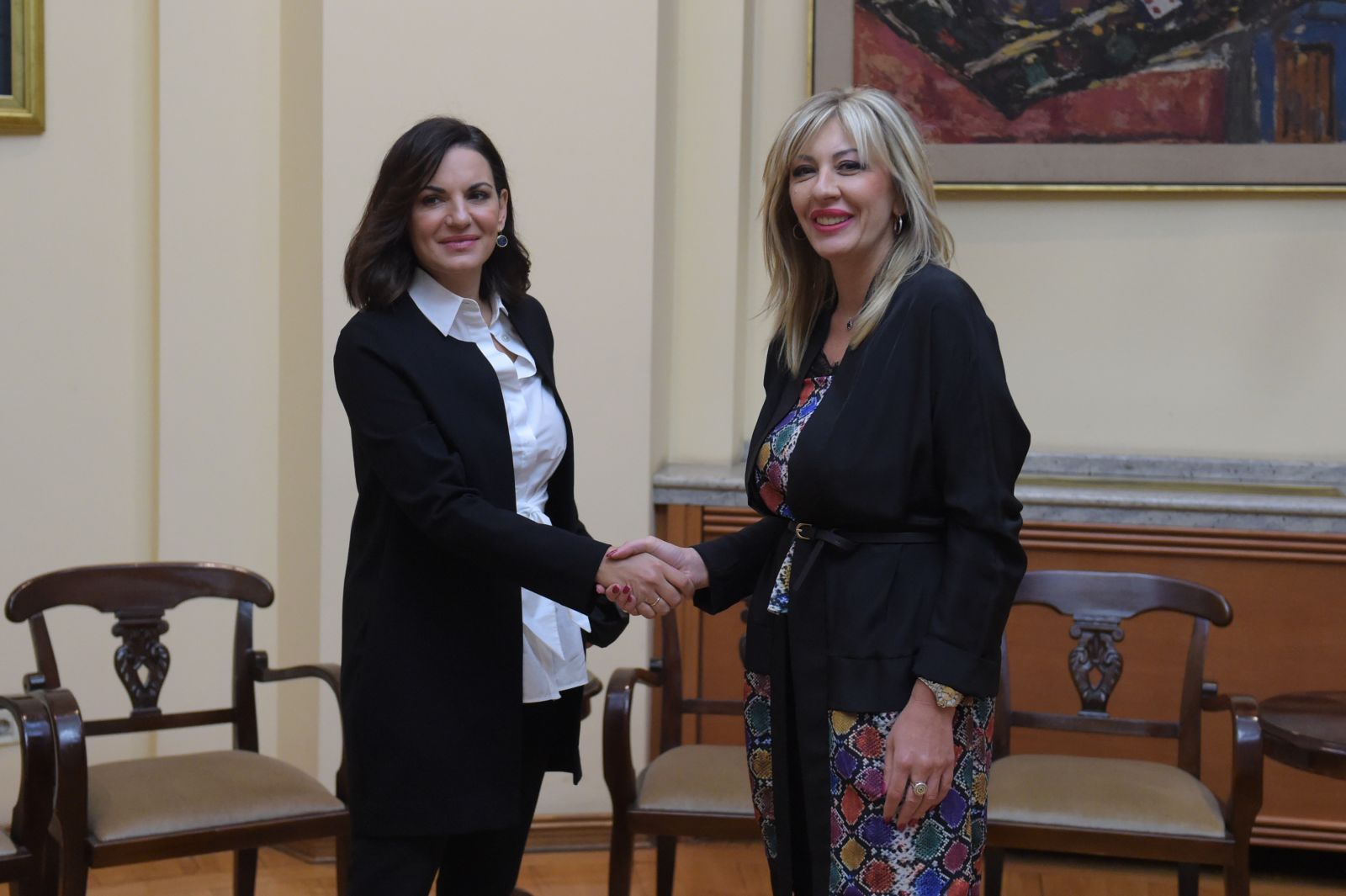 Minister of European Integration Jadranka Joksimović held a meeting with Hellenic Parliament MP Olga Kefalogianni. They discussed issues relating to bilateral relations, Serbia's European integration and continued cooperation between the two states in the aforementioned process, situation in the region and in the EU and other topics.
Joksimović briefed Olga Kefalogianni on plans regarding the continuation of the European integration process. She stressed that Serbia was committed to the process as well as to implementing reforms that have been creating conditions for the country's overall development and progress. She particularly emphasised reforms in the fields of economy and the rule of law that created the environment attractive for the inflow of foreign investments and interest in investing in Serbian economy. Joksimović also expressed her gratitude for the help and support that Greece had been providing to Serbia on its path to the EU, thus confirming its long-standing honest friendship.
The Minister informed Olga Kefalogianni that Serbia had opened seventeen chapters in the accession process so far, two of which had provisionally been closed. She indicated that we also expected the opening of new chapters during Finland's presidency of the Council of the European Union.
Jadranka Joksimović expressed her appreciation to Greece for not recognizing so-called Kosovo's independence, thus manifesting commitment to the respect of international law.
Kefalogianni, a member of the Hellenic Parliament from New Democracy party, stressed that Serbia was of great importance for preserving regional stability and contributing to the development of south-eastern Europe. She confirmed that Athens would continue to support Serbia's European integration process, as well as reforms being implemented creating the positive effect. She also indicated that the EU would not be complete without the Western Balkans.
The interlocutors assessed that the relations between the two friendly states were at an extremely high level, also due to excellent relations between the two sister ruling parties within the EPP Group - New Democracy and the Serbian Progressive Party, as well as between Prime Minister Mitsotakis and President Vučić. They stressed that there were no open issues between the states and that there was mutual commitment to strengthen and intensify relations.
Source: Tanjug